Skin Health
Skin Health
Whatever your skin health needs, there are options at The Therapy Network. Very often a combination of approaches individualised for the client are better than a "one size fits all" approach. Whether you have a skin condition such as acne, eczema, psoriasis or rosacea, or just want to generally improve the condition of your skin, The Therapy Network offers treatments such as Bioptron Light Therapy, Far Infra Red therapy, Complex Homeopathy and Nutrition, as well as facials and a range of skincare products. For skin conditions, therapists Sue Pash and Alison Brown can offer a joint initial consultation, and pool their knowledge and therapeutic resources to suggest a tailor made programme to support your goals. Finding causes, not just suppressing symptoms, is at the core of their philosophy. Often the simplest changes to lifestyle can have a big impact on health – including the health of the skin.
Alison also offers Power Facials for both men and women, to help keep skin in tip top condition.
Power Facials with Alison Brown
If you want a toned body, you work out, the same goes for your face.
The facial is making a comeback, but not just any old facial, this is not just a few aromatherapy oils and Tibetan bells.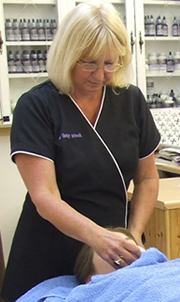 Recently Botox and face freezing fillers have lost their celebrity fans, it scares people to have additives injected into their face, and the results are sometimes alarming.
So, what is stepping up to take its place? The answer is facial manipulation, it's simply in the power of the therapist's hands.
By stimulating and massaging the face muscles, contours can be lifted giving better definition, but it also softens and relaxes the face.
A good massage brings the face back to life, and done regularly will exercise and tone the facial muscles.
But for Alison Brown's clients it doesn't end there. After the power of the Facial Massage comes the added power of Bioptron.
The Bioptron Light Therapy System is a worldwide patented light therapy medical device with a specific optical unit emitting light that is similar to the part of the electromagnetic spectrum produced naturally by the sun but with no UV radiation. When the Bioptron light is directed onto the skin it stimulates light-sensitive intracellular structures and molecules.
It aims to provide the wavelengths of light needed without the perceived risks associated with UV light. Bioptron Light Therapy can act in a natural way by supporting the regenerative and rebalancing capacities of the skin, helping the skin release its own healing potential.
The Power Facial is about working at a deeper cellular level, increasing the production of collagen and reducing toxins. One treatment will give you the glow, but why not make a commitment to take the quantum leap?
Cells take about 30 days to come to the surface, so three facials close together to begin will see the quantum leap result, then you can come back for top-ups to keep the you glowing, giving you that inner smile that shows in your eyes.
All facials are carried out using Genesa products to cleanse, moisturise and tone, to make that extra impact, and are available at The Therapy Network.
Power Facial for Men
If you know the confidence a good haircut can bring, you'll know the confidence boost that comes from good skin - and that doesn't just apply to women!
The Power Facial is also available for men, using the Genesa Men's range.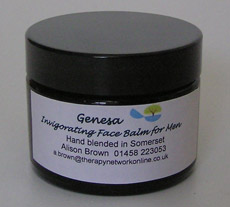 Luxury facialist and aromatherapist Alison Brown personally formulates all of her products and insists on sourcing the best and sometimes very expensive ingredients from around the world that are renowned for their incredible benefits to the skin and to insure that her products really work, feel wonderful and smell gorgeous too. All products are hand blended in Somerset.
Conditions Treated
Subject to GP diagnosis and supervision. Please also see our disclaimer.
Acne
Dermatitis
Chemical sensitivity
Eczema
Psoriasis
Rosacea
Anti aging skincare