Alison Brown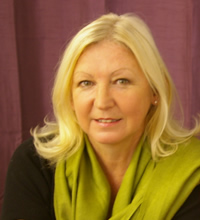 Contact Information
Phone:

01458 223053

Mobile:

07712 671356
Massage Therapy, Holistic Skincare and Thermal Auricular Therapy (Candles)
My work as a massage therapist and facialist is my passion. My interest in holistic wellbeing and skincare began around 10 years ago and I am continually researching and studying pioneering practices in the world of holistic health to ensure the best for my clients. I am fully qualified in a wide range of treatments including lymphatic drainage, neuromuscular and Eastern and Western massage styles, Aromatherapy, facial massage and Thermal Auricular Therapy (Ear Candling). I combine my knowledge and experience as a facialist with Thermal Auricular Therapy (Ear Candling) to offer individual treatments for Ear and Sinus problems.
I hold a clinic at The Therapy Network in Somerton and work with pure organic products that reflect the values behind my treatments as well as delivering highly effective results. I provide the highest quality care, with my clients' wellbeing as my main concern. Not only can treatments be positive, re-energizing and healing for the body, but also calming and rebalancing for the mind. I believe making time for oneself helps greatly in the healing process. I look forward to welcoming you.
Thermal Auricular Therapy - Ear Candles
Sinusitis is the one of the most common chronic illness in Britain with nine million sufferers, and that 2.3 million people suffer ear wax problems.
For ear and sinus problems I believe that a combination of approaches represents a better value option to clients. At my Ear and Sinus Clinic I therefore provide as standard an initial assessment using an ottoscope before any Ear Candle treatment. The use of Ear Candles is for the removal of built up wax, moisture and impurities. This not only helps with hearing, it can also effect and help other discomforts such as –
Snoring,
Sinusitis, sinus pain, glue ear,
Allergy problems,
Pain/pressure when flying,
Lymphatic drainage congestion,
Headaches, ear noise, sore throats, ear infections,
Vertigo,
Improvement in sense of smell and easier breathing.
A pressure point massage is carried out on the face and ears to finish the treatment. This helps the circulation and to unblock stagnant lymph which helps drain the sinuses and alleviate pain. It also melts away stress and leaves you clear headed and balanced. Self help and aftercare advice is also offered as standard.
Further information can be found on the Ear and Sinus Clinic page.
Power Facials for Men and Women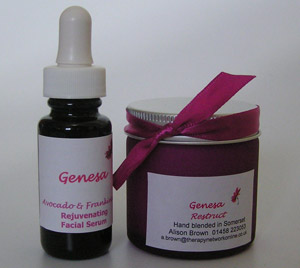 Manual Lymphatic Drainage for the face is one of the most effective treatments available. It helps to get rid of excess fluid, reducing bags under the eyes, making eyes clearer and leaving the skin peachy and you with an inner glow.
This reparative facial concentrates on lymphatic massage to refine facial contours and detoxify the skin. Using light, repetitive strokes can change the consistency of the connective tissue deep in the skin. A sonic brush is used to exfoliate and then Bioptron Light is used for rebalancing and regenerating. This combined approach helps cleanse the skin, drain metabolic waste, toxins and trapped water giving many benefits.
Facials are carried out using Genesa Facial Products to make that extra impact. Hand blended in small batches in Somerset, they are available from both Clinics.
For further information on facials, or specific skin conditions, please see the Skin Health page.
Massage
Massage and Touch Therapy works on many levels, offering wide-ranging benefits both physical and psychological. My approach is that no one treatment suits all, often a combination of approaches is suited, tailored to the individual.
Each individual massage is created using special blends of organic botanical body oils and balms with a combination of body brushing, Aromatherapy, Swedish, neuromuscular, and lymphatic drainage massage techniques. A choice of either a relaxing or energising treatment is tailored to suit your needs.
Bioptron Light Therapy and Far Infra Red Therapy
Bioptron Light Therapy and Far Infra Red Therapy can be added to enhance your Massage or Facial. They are effective methods for healing, detoxing, regenerating and rejuvenating the skin, increasing the penetration of applied active ingredients and are recommended for relief of muscular pain, sore muscles, arthritis, bursitis, back ache and joint pain.