Genesa Services for Women - from therapist Alison Brown
Although putting on the glam for a special occasion definitely has its place, for day to day care the Genesa client is usually looking for natural, holistic body and skin care, and age appropriate grooming and beauty treatments. If that sounds like you and you are looking for a no fuss way to enhance your looks without doing anything drastic, or you wish to avoid products with questionable ingredients, the following services are available:
The Natural Manicure and Pedicure
Using as non toxic products as possible, including many that I make myself, you can choose between the Natural Manicure or the Natural Pedicure, to tidy, shape and buff your nails, or have both done together.
Natural Manicure: £19.00
Natural Pedicure: £19.00
Natural Manicure and Pedicure (together): £30.00
Luxury Manicure – as above, but including hand and arm massage: £25.00
Luxury Pedicure – as above but including a foot and leg massage: £25.00
Luxury Manicure and Pedicure (together): £40.00
For any manicure or pedicure appointment, if you would like to bring your own nail polish for me to apply, please add £5.00 and ensure you let me know at the time of booking, so that I can allow for the additional time.
Notice regarding pedicures: Please note that within the network the Foot Health Clinic offers an alternative option to clients who require more support to maintain foot health than a pedicure can provide (such as clients with diabetes). To ensure your wellbeing, please advise me of any medical condition or medication being taken at the time of booking any Genesa treatment.
"The Natural Facelift"
Recently Botox and face freezing fillers have lost some of their celebrity fans. It scares people to have additives injected into their face, and the results are sometimes alarming.
So, what is stepping up to take its place? The answer is non toxic alternatives such as The Natural Facelift. Firstly, I use my own range of facial products to cleanse, tone and moisturise. Secondly the technology - I use a professional calibre sonic brush that uses a gentle sonic micro-massage action to cleanse deeply. This gently clears pores without harsh abrasion or chemicals.
The Natural Facelift is then in the power of the therapist's hands. By stimulating and massaging the face muscles, contours may be lifted giving better definition, but it also softens and relaxes the face. A good massage brings the face back to life, and done regularly will exercise and tone the facial muscles. After the power of the Facial Massage comes the added power of Bioptron. I believe that when the Bioptron light is directed onto the skin it stimulates light-sensitive intracellular structures and molecules. Bioptron Light Therapy may act in a natural way by supporting the regenerative and rebalancing capacities of the skin, helping the skin release its own healing potential.
Single appointment: £30.00 (Please ask for a price for multiple appointments)
All facials are carried out using Genesa products to cleanse, moisturise and tone, to make that extra impact.
Colour Confidence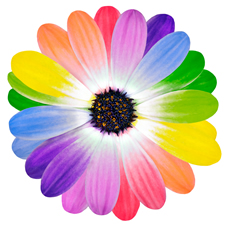 New job, meeting a new partner, empty nest and need a boost, there are times when familiar clothes just lose their charm, or they just don't look right any more. So if you think it's time to take a fresh look at yourself, redevelop your style and confidence, Colour Confidence can help you do this.
Wearing the right colours for you may make you look healthier and younger which in turn increases your self esteem and confidence.
Finding your colours can take you on an exciting journey that leads to easier shopping, a co-ordinated wardrobe that you wear and that flatters you. Allow an hour and half for an enjoyable Colour Confidence session. I will help you find which colours and tones suit you best. Swatches will be provided of your chosen colours to help you go on to shop with confidence. If you need advice on anti- aging skin care, makeup and hair colour, or the right skirt or sleeve length, then the appointment time is yours to choose what information you need to support your wellbeing.
Your appointment, including colour swatches, is priced at £60.00. Or why not bring a friend? Joint appointments £80.00 including a swatch for both of you. Great value when you consider that you will have the information to enable you to shop confidently, making fewer mistakes on clothes that may just sit in your wardrobe. You may also be able to use the new found skills to resurrect items you already own, using a splash of the right colour.