Damian Etherington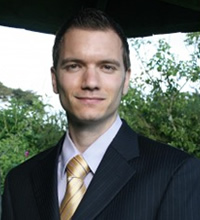 Contact Information
With over 8 years experience in assisting the business development of health practitioners in the UK and Europe, Damian has a keen insight into practically integrating practice management within the health field. As well as his speaking/training engagements, Damian also runs the UK branch for Energetix, a leader in the field of professional nutritional supplements, herbal and homeopathic remedies, and business support.
Damian says:
In my experience there has been very little support and training for health professionals in the field of practice management. They qualify in their respective fields and expect to start up a practice. Some set up their own practice, rent a room in a clinic or work from home.
More and more I hear practitioners move into their respective fields only to end up finding another job to support themselves. I have heard countless stories about practitioners struggling with their business. Do you know someone in this situation. Are you that person?
What is the difference between a successful practice and one that struggles? It is understanding the balance between health and business.
I have worked for over seven years in the health field as a consultant and have seen what works and what is ineffective. I established Practice Management Consultants with the vision to assist health professionals with practical starting points so they can better understand how to manage their practice and create a successful business. This in turn allows the best opportunity for patient success.
How do we accomplish this?
Our role is to give you tools that can be practically applied into your business now. As we move through this process together, whether in a seminar setting or one to one, we will be your starting point for a dynamic new outlook on success. During a one to one session, we first analyze your practice and discover your specific needs. Then we create a strategy that can be applied to your practice. We consider this a partnership and will be a resource for you and your practice.
In a seminar setting, we introduce the principles involved for the successful management of your practice. We will show how simple steps can make profound differences and give you tools for immediate application. Please visit our events page for upcoming seminars.
How long will it take to see results?
That depends on you. This is a process and each practice is unique. We like to use the healing process as an example. If your patient follows your guidance, how much more effective are you at assisting them? If they don't, what happens? This same principle applies to your success.
In our experience, professionals have seen changes come quickly and are very appreciative of the process we undertake. The common characteristics of our clients are: a passion to assist people, a desire to be successful and a strong motivation to be a leader in their field. If this is you, then our experience together will be fruitful and exciting.
Please email me at d.etherington@therapynetworkonline.co.uk for details of upcoming Practice Management seminars, or for information regarding the one to one coaching service.
The initial stage of the Practice Management series can be done either by attendance at a seminar, (Practice Management 1) or by phone/email coaching sessions. Completion of Practice Management 1 by either route enables you to attend, in any order, any of the optional additional seminars in the Practice Management series.